Israel Chapman – Australia's First Detective
Assistant Commissioner Stuart Smith
The amazing story of Australia's first detective; a man who first arrived on our shores as a convict!
INTRODUCTION
Israel Chapman was born of Jewish heritage in Chelsea, London in 1794. On 14 January 1818, aged 24, Chapman had his first of what would be many experiences giving evidence in court. Unfortunately, on this occasion, Chapman was the defendant and appearing in The Old Bailey Courthouse on a charge of Highway Robbery.
MISCARRIAGE OF JUSTICE?
Chapman protested his innocence at every opportunity, from the first time he was approached and detained through to his appearance before the Magistrate. He vigorously denied having anything to do with the incident subject of the charge against him. The prosecutor admitted that they could not be certain that it was Chapman that was involved but did believe that he "was one of them" (the robbers).
Israel Chapman was not believed. Convicted as charged. Sentenced to death for the crime for which even the prosecutor could not be certain he had committed. The sentence was later commuted to Transportation for Life to the penal colony that would become Australia.
He arrived in Sydney on board the convict transport ship "HMS Glory" on 14 September 1818 after a voyage lasting 119 days. The ship's records describe Chapman as being five foot three inches tall, with dark, ruddy complexion, black hair and dark eyes.
His prior occupation was listed as that of a coachman and groom — but it was soon apparent that his real calling was that of a policeman. Once in the colony, his skills for managing convicts was soon recognised and he was appointed to the position of Chief Wardsman of the Prisoner Barracks in Hyde Park. He remained in this position of great responsibility for the next 18 months, during which time he married a fellow convict, Catherine Martin.
In 1820 he was appointed Constable and Principle Overseer of the Convict Lumber Yard. On 21 November 1821, in recognition of his good services, which included his first capture of dangerous bushrangers, Chapman was granted a conditional pardon. This led to Chapman furthering his career by joining the Sydney police – the start of a distinguished and eventful career in law enforcement.
NOT ALL SMOOTH SAILING
Like the voyage from London to New South Wales on the convict transport ship, Chapman's police career was not to be all smooth sailing. After joining the Sydney police – no mean feat for a convicted highway robber and transported convict – his prospects seemed secure. But early in 1822 something went wrong. Apparently, he had got into trouble with some superior officers and was dismissed from the police force by the Colonial Secretary, Major Goulburn.
SUPPORT IN HIGH PLACES
In a bid to be reinstated to the police, Chapman garnered support from several influential members of the penal colony. The then Principal Supervisor of Convicts, William Hutchinson (himself an early emancipist) wrote that during Chapman's time as the Overseer at the Prisoner Barracks 'he conducted himself in a very becoming manner and I always considered him a very active and useful man'.
Other prominent members of NSW society came forward in support of Chapman's character and performance of his government-appointed duties. The support was sufficient to demonstrate his value to the government and in 1823 or 1824 the Colonial Secretary yielded and reinstated Chapman.
It appears that Chapman seized this opportunity and the show of faith in his abilities because in January 1825 the newspapers were reporting on his exploits – he was described variously as 'an active police officer', a 'fearless character' and a 'master of disguise'. He performed his duties with great care and perseverance and was regularly seen and heard in court giving evidence against the criminals he arrested. He was well known to Sydney's underworld characters (no matter how desperately they tried to avoid his company) and used a variety of strategies to detect and arrest offenders.
FROM FELON TO FREE MAN
Further reward was soon to come. In recognition of his diligence and commitment to law and order in the new colony, Governor Darling personally recommended him to Lord Bathurst (the Colonial Secretary) for an Absolute Pardon.
Chapman's active and faithful service, described as 'his indefatigable exertion as a constable of Sydney Police', earned him the Absolute Pardon and in 1827 Israel Chapman became a free man again.
THE FIRST POLICE WAGES DISPUTE?
Over the years Chapman was responsible for the apprehension of many a violent criminal and was wounded badly on several occasions, including being shot in the head. During a scuffle to arrest a large party of violent troublemakers he suffered a fractured rib – but refused to yield the offender to others who tried to rescue him from Chapman's clutches.
On another occasion, after returning from a pursuit of escapees, he was severely injured when a firearm he was unloading accidentally discharged and shattered his hand. Despite the severity of his injuries, he was always soon back on duty.
But the danger and the injuries seemed to take their toll on this fine policeman. In June 1827, Chapman resigned from the Sydney Police. His reason? He was not being paid to a level commensurate with hard work and level of service that he felt he was delivering to the government. Even worse, Chapman was aware that others in the community were being paid more than him although they 'have never shown that zeal to the Government that I have done'. In effect, Chapman was delivering an ultimatum – pay me more or find someone else.
Such was Chapman's reputation that his intended resignation was covered in the newspapers of the day. On 9 May 1827 the following coverage was published in The Australian newspaper: 'Chapman, the flower of Colonial Constables, has resigned the Staff of Office. Hard work and little pay do not suit an active policeman; and he properly resolves to show his employers the void that is created by his resignation. He is perfectly right'.
It didn't take long to get an answer.
Chapman's superior officer expressed concern that the fledgling police department 'will lose a very active, zealous and efficient member' if they allowed Chapman to leave. The support went even further. Rather than just resisting Chapman's intention to leave, the senior officer implored the government to remove Chapman 'from ordinary police duties altogether, and to place him on the footing of a Bow Street Runner, for which situation his abilities are well adaptable and that his salary may be raised'.
Within a few days of submitting his resignation, Chapman was re-instated – and promoted – and given a substantial increase in remuneration. His 'pay-strike' was successful!
The indefatigable Chapman was appointed to the newly created position of 'Police Runner', described as 'performing distant journey duties on police business'. His salary was increased to 100 pounds per year – putting Chapman in the same pay class as Superintendents. He became the state's first designated police detective. This is supported by research conducted by Mr T O'Callahan in his work 'Police Establishment of NSW' – 'Israel Chapman is the only record of detective service I can find in the various records of police in NSW until the sixties of the last century'.
The NSW Police Force own records indicate that the first 'Detective Force' was established in 1862. Like the Bow Street runners in London, Chapman's duties would take him to all parts of the new colony. He became popularly known as the 'George Street Runner' because he was attached to the George Street Police Office in Sydney.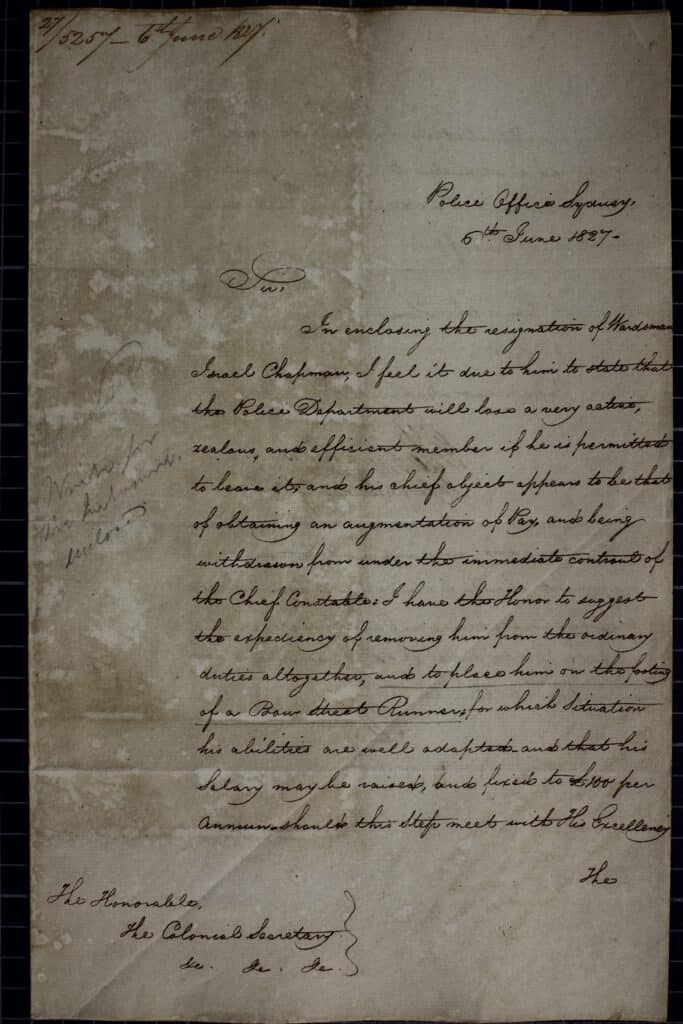 BOW STREET RUNNERS?
Henry Fielding and his half-brother John were magistrates in London in 1749. Together they established a paid police force, originally comprised of six men who were tasked with preventing and fighting crime on the streets of London. They became known as 'Bow Street runners' simply because they were based in Bow Street and their duties involved them 'running' in pursuit of criminals. They were officially replaced in 1829 with the formation of the Metropolitan Police.
FIGHTING CRIME TAKES ITS TOLL
Chapman proved adept at detecting and apprehending all types of criminal — he caught thieves, counterfeiters, absconded servants, robbers and prostitutes. Many of these miscreants violently resisted Chapman during their arrest and he suffered from regular and serious injuries. By the end of 1828, Chapman became restless and decided, now that he was free to do so, to return to England.
Having arrived at this decision, he resigned from his position with the Sydney police. Unlike the previous year, when his stated plan to resign resulted in a pay rise and promotion, this time Chapman took leave of NSW and returned to England.
RETURNING TO NSW A FREE MAN
After only two years' absence, Chapman decided that he wanted to return to NSW. While his first trip to the colony was provided free of charge (courtesy of his status as a convicted criminal), as a free man Chapman was required to pay for the privilege the second time around.
As an indication of the very high regard in which he was still held, Sir Ralph Darling (although no longer the Governor, himself having been recalled to London in October 1831) applied for free passage to NSW for Chapman.
In his letter seeking the free passage for Chapman, Darling wrote that Chapman was 'extremely active in the performance of his duty in the Police Department, and was, I think, more than once, severely wounded in his encounters' whilst finding and arresting those who were wanted for their various crimes. Chapman was at once granted his request of free passage and in 1833 he returned to Sydney with a new wife (his first having died in 1829). He re-joined the Sydney Police as one of only six Wardsman. It didn't take long before his diligence and zeal were again rewarded by way of promotion – this time to the position of Conductor.
Chapman was appointed as an Inspector of Police at Sydney for a period of three years before he then joined the Police at Campbelltown. This was to be the beginning of the end for Chapman's distinguished police career. After only several months at Campbelltown, and at 46 years of age, he felt he 'was obliged to resign in consequence of duties being too onerous'.
This was an era where there were no police pensions. He moved to Berrima, in the southern highlands of NSW, to live with his brother Noel (also a former convict) who at the time was the Chief Constable at Berrima.
SEEKING WHAT WAS RIGHTFULLY HIS
While in Berrima, Chapman wrote three petitions seeking title to land that had been granted to him earlier in his life. While there were records to show that he had submitted a claim to take ownership of the land – some 50 acres – he was now denied any claim to the land as it was found that he had not claimed the land within the specified time limits.
In effect the grants, to which Chapman was lawfully entitled, were cancelled.
Whilst the short history of the colony provided numerous examples of Chapman's exploits in support of the government and all law-abiding citizens, his petitions were unsuccessful. He had dedicated himself to protecting the community, described in one newspaper article as a 'terror to all evil doers'. His reputation was such that he was given free passage back to NSW, and immediately re-employed as a police officer, but even this could not help him
gain access to the land grants which he felt were rightfully his.
SAD FATE
Israel Chapman feared that without the land grants he would end up destitute. Sadly, these fears were realised. Israel Chapman, former Inspector of Sydney Police and the colony's first detective, died in the Liverpool Asylum on 5 July 1868. He was buried in an unmarked grave at Rookwood Cemetery.
THE STORY DOESN'T END THERE
Fast forward to 2018. The NSW Police Force Detectives Board engaged an archival and research team from the Rookwood Historical Cemetery, NSW State Archives, and NSW State Library to assist State Crime Command to identify NSW's first detective designation.
This is the story of Israel Chapman. His exploits as a police runner (detective) are well documented. He was well known throughout the fledgling colony. He was a master of disguise and had an uncanny ability to locate and apprehend wanted felons. He was fearless and suffered many serious injuries but that never stopped him from effecting arrests. In his own words though, he humbly said: "I always do my duty to the best of my knowledge".
NOT THE ONLY 'FIRST'
Israel Chapman, during the time he was in the Police Force, was one of the public characters who was well known throughout the colony. It was a time when mere survival was a challenge and the population was made up of many who were ex-convicts – including the police. To survive and prosper one had to be astute and industrious. Israel Chapman was this and more.
Chapman's exploits as a police officer, and particularly as a detective, have their equal only in modern times. They were so extraordinary that they were immortalised in writing by George John Lang, Australia's first novelist, in his book Assigned to His Wife or The Adventures of George Flower — The Celebrated Detective Officer. It is also believed to be the first novel to feature an Australian detective.
CHAPMAN'S LEGACY
On 24 October 2019, NSW Police Commissioner Mick Fuller APM joined members of Israel Chapman's family at a ceremony to place a headstone at Chapman's previously unmarked grave to honour his contribution to law enforcement.
Commissioner Fuller said that Detective Chapman's legacy lives on in modern criminal investigation, adding that "Detective Chapman demonstrated the same tenacity, skill, and fortitude as our current detectives and it was my honour to be able to acknowledge him and his career as a trailblazer for policing in Australia."
THE ISRAEL CHAPMAN AWARD
Assistant Commissioner Stuart Smith, Commander, State Crime Command, NSW Police Force, has initiated an award in honour of Detective Israel Chapman and all that he represented. The award will be presented to the officer who completes the NSW Police Detectives training program as top of each class.
ABOUT THE AUTHOR
Assistant Commissioner Stuart Smith APM has worked in both rural and metropolitan locations during his more than 30 years in the NSW Police Force (NSWPF). He achieved his detective designation in 1991 and has maintained a criminal investigation focus throughout his career. In more recent years, Stuart has led numerous significant operational events. These include his role as the Commander of Orana Local Area Command in 2006 and the response to a significant civil disorder event and in 2009 leading a contingent of over 300 NSWPF officer's interstate to the Black Saturday Bushfires in Victoria.
In 2018 Stuart took up the role of Acting Commander, State Crime Command and in 2019 he was appointed to this position at the rank of Assistant Commissioner. His current role includes responsibility for the delivery of professional policing services to the community of NSW through disrupting, preventing and responding to serious and organised crime.
Become an
APJ

subscriber now
Want to read more posts like this one and stay up to date with the latest in Australian policing news? Subscribe to the Australian Police Journal.